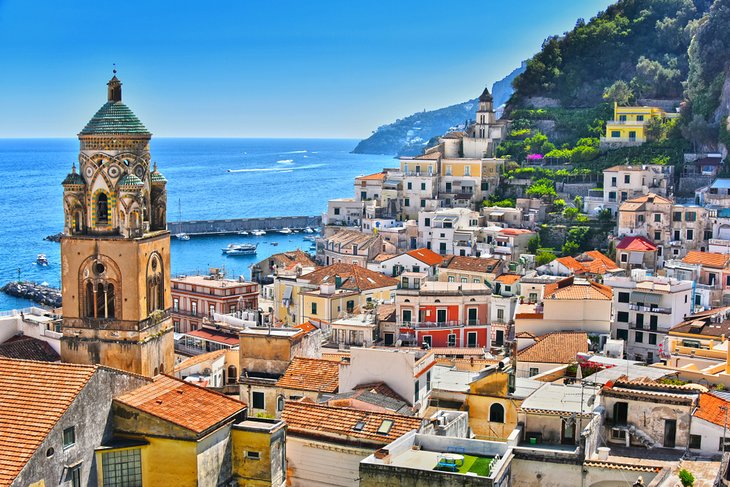 Travel
10 essential places to see on the Amalfi Coast
It has kilometers of coastline full of cliffs, small coves and some of the most beautiful villages in Italy built vertically on these same cliffs.
There are also lemon plantations, palaces and villas that stand out and paths that link the villages with each other.
The Amalfi Coast is famous throughout the world for its natural beauty, full of landscapes that will make you fall in love and for its high cache. Yes, the Amalfi Coast is not cheap. But don't worry, if what you are looking for is to go through it with an average or tighter budget, I will explain many tips later.
The best way to get to know this area is to have freedom of movement and not be aware of bus schedules, etc. In addition, there are places that can only be accessed by car. So I recommend that, if you are thinking of traveling to this area, look for the option of renting a car.
In this post I tell you the 10 essential and most beautiful places to see on the Amalfi Coast. I also add some travel tips and accommodation options.
1. Maiori
It is one of the least characteristic towns to see on the Amalfi Coast. It is due to the great flood caused by the river in 1954, which flooded and destroyed a large part of the town.
When they later rebuilt the town, numerous historical elements were removed, and with it part of the characteristic constructions of the area.
Even so, the town of Maiori is beautiful and has a lot of charm. For this reason, I recommend you make a stop on your route along the Amalfi Coast.
Maiori has a beach of 1km approx. Surrounded by numerous tourist accommodation, shops, bars, a small promenade and places to reserve different water activities.
2. Sorrento, an essential on your trip to the Amalfi Coast
The city of Sorrento is one of the most essential places to see on your route along the Amalfi Coast. It is a city full of culture, beautiful landscapes, excellent gastronomy and a citrus aroma that you breathe as soon as you arrive.
3. Vietri Sul Mare
Vietri sul Mare is considered the gateway to the Amalfi Coast. It is known worldwide for its traditional pottery. There are hundreds of craft shops scattered throughout its colorful streets where you can buy some handcrafted product made with ceramics. In addition, the town has a beautiful historic center, beaches, bars, restaurants and plenty of accommodation options. It is located near Salerno (about 3 km) so you can stay there (it is usually cheaper and there are more options) and visit Vietri in a half-day getaway.
One of the essential stops you must make here is the Vietri Ceramics Museum. You will find it in the Villa Guariglia. Also don't forget the Church of San Giovanni Battista.
4. Praiano
Praiano is located in the middle of Positano and Amalfi, two of the most essential towns to see on the Amalfi Coast (and which I will tell you about a little later). For this reason, since it is a passing town, a stop in Praiano is almost mandatory.
It is a quiet town, very similar to the previous ones, due to the significant architecture of the area. It has beautiful beaches and good restaurants.
We could say that the town is divided into two zones; the coastal area, Marina di Praiano. And the upper area, Vettica.
It is a beautiful town that sometimes goes unnoticed because it is between two much more popular towns. Do not miss it!
5. Positano, the most beautiful place to see on the Amalfi Coast
Positano is one of the most beautiful towns on the Amalfi Coast, and many say the most romantic. Reason is not lacking, because walking through the streets of Positano will make you fall in love a little more with Italy and especially with the Amalfi Coast.
It has a very special charm, surrounded by landscapes full of cliffs, alleys full of stairs that lead to corners full of flowers, small shops, colorful houses, interior patios…
6. Atrani
Located near Amalfi you will find the town of Atrani, one of the smallest towns in Italy. It is one of the most charming corners of the Amalfi Coast. It preserves its aspect of a fishing village intact. Its facades are colorful and its streets are narrow and labyrinthine alleys that invite you to lose yourself to discover every detail. When you visit it you should look for the Church of San Salvatore, one of the most essential places to see in the town. Next to it, there is a small square with beautiful views of the sea.
It is a good option to stay if you are looking for a less touristy and crowded town, in addition to finding incredible accommodation with sea views.
7. Amalfi
Amalfi is one of the most famous places to see on the Amalfi Coast . Formerly it was one of the important Maritime Republics, rivaling Genoa, Pisa and Venice. And today it is the most well-known place in the world by wealthy travelers. It is an area full of history and culture.
The Duomo di Sant'Andrea is the best known and most visited place in Amalfi, built in the Arab-Sicilian style. You have luxury accommodation with sea views, restaurants and bars, clubs, shops, beach… It is a beautiful place that you cannot miss.
8. Furore
In the small town of Furore you will find one of the most incredible landscapes to see on the Amalfi Coast. It is literally perched on the slopes of the mountain, very close to the town of Praiano.
It stands out for its well-known narrow fjord, carved into the ground by the incessant work of the current for centuries, which descends from the mountains until it empties into the crystal clear waters of the Tyrrhenian Sea. It is part of the UNESCO World Heritage Site and is one of the most beautiful places to see in the region.
9. Minori
Minori is another of the essential towns that you should add to your route along the Amalfi Coast. Here you will find fields full of citrus fruits, a Roman villa from the 1st century, the beautiful basilica of Santa Trofimena and endless alleys that will take you to see beautiful houses, interior patios, small craft shops… In addition, Minori has a beautiful beach and several accommodation options in case you are interested in sleeping here.
10. Ravello
The town of Ravello is located more than 300 meters above sea level. Something different from the previous places. Although it is not far from the other towns. From there you will have more incredible views since it is at a higher altitude. There are several stately homes such as the Villa Rufolo and the Villa Cumbrone . The Villa Cimbrone Gardens are also amazing, don't miss them.