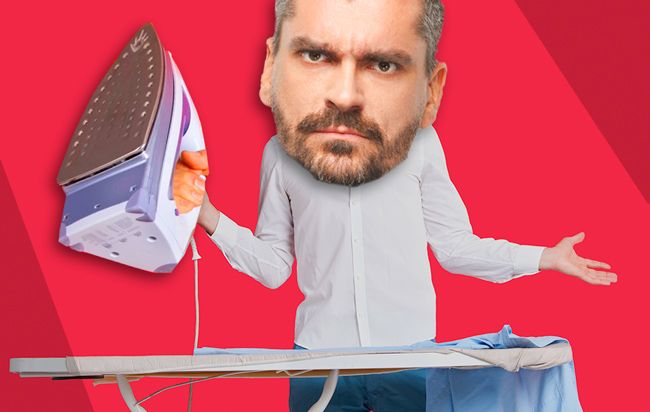 It's time consuming, it's boring and, with the summer temperatures, it feels like the laundry basket is bottomless. Fortunately, we have a series of tips for you so that you never have to iron again and still wear wrinkle-free clothes. Yes, yes, never again!
CONSEIL 1 : ICE ICE BABY
It may sound strange, but this advice is worth trying. Add five ice cubes to your laundry. Why ? Thanks to the combination of the hot water released by your machine and the cold of your ice cubes, steam is created in a minimum of time. Your wrinkled laundry immediately looks ironed. And no, it cannot damage your machine.
TIP 2: LAZY PEOPLE NEED TO BE SMARTER
Too tired to install the ironing board? No worries ! Cut a cardboard box into a flat piece and place it under your mattress, on the slatted base. Put your next day's clothes on the cardboard. All you have to do is go to bed.
TIP 3: BLOW NOW!
People who say you have to buy extra gadgets to iron your clothes are wrong. Fill a spray bottle with water and spray it on your clothes. Then blow with a hair dryer on the maximum heat position. At the same time pull the fabric and you won't notice that it was a hair dryer instead of your iron.
TIP 4: LONG LIVE THE DRYER!
Things can be even simpler since your dryer will be even more practical in case of quick needs. Spray water on the garment you want to wear and place it in the dryer. Were you in a hurry? In just a few minutes, you get an outfit without the slightest crease.
TIP 5: STEAM YOUR MORNING ROUTINE
Well, what will be the best trick? Obviously the one in which you have nothing to do more than your daily morning routine. Hang up your wrinkled clothes in the bathroom, close doors and windows and take a hot shower. Once you are clean and dry, your clothes will be ready.
TIP 6: TURN AWAY YOUR STRAIGHTENER
All women (or almost) and therefore all men (at least living with a woman) have a straightener in their bathroom. Position it at low temperature, let it preheat and use it to iron your clothes. Ideal for shirt collars and over dress pants. Effective advice, even for those who still prefer the iron.
TIP 7: SPRAY LIKE A PRO
Did your grandmother tell you that you should always keep a bottle of vinegar at home? What if she was right?  Mix well and pour into a spray bottle. Spray your mixture on the garment, hang it on a coat rack and let it dry. Ready to go!
TIP 8: ALUMINUM FOIL IS SACRED
Are you a fan of traditional ironing? So, no harm in giving you advice that makes this type of ironing easier. Take a large sheet of aluminum foil and place it on your ironing board. Fold the edges of the sheet around the board and cover with your classic ironing board cover. You will see that the ironing suddenly becomes smoother. Why ? Aluminum foil conducts heat, so your creases disappear faster and easier. Please !