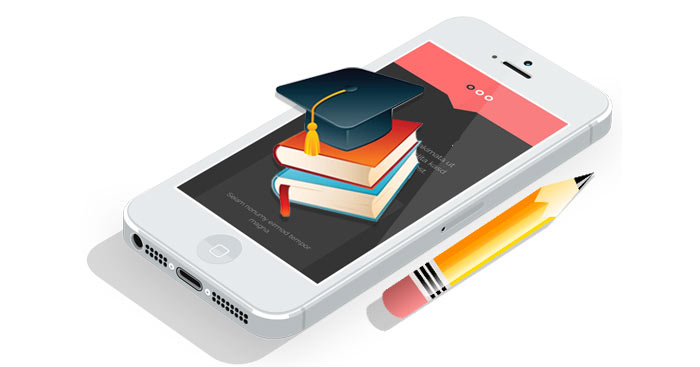 Since the advent of technology, mobile apps have revolutionized everything we know and technology has positively affected many industries.
There are mobile applications for each of them: medicine, commerce, construction, automotive, sports, education, etc.
There are many new approaches and technologies that have emerged to reduce the burden on students and teachers in education.
Today's students can learn their subjects or any class online on devices such as tablets, laptops and even cell phones.
They can save their important notes online, submit their assignments, or simply take lessons in whatever they want to learn online.
Instead, teachers can manage their classes and distribute important notes through apps or manage a more personalized communication with each student as well as with their representatives.
That is why today we want to introduce you to some of the most used applications in the educational field and that will be useful to you whether you are a teacher or a student.
1.- Khan Academy
Khan Academy is an educational platform that offers a variety of courses and classes for students of all levels thanks to mobile technology.
Each student will be able to take classes at their own pace through instructional videos.
It currently has more than 10,000 instructional videos between classes and other educational content.
In addition, it is worth clarifying that this application is completely free.
Khan Academy deals with more typical education, like math, economics, history, science, and more.
They also have a kid-specific app that has many of the same features.
It is definitely one of the best free education apps.
2.- Udemy
Udemy was one of the first mobile educational apps to offer courses.
It currently has more than 32,000 courses in total ranging from science and technology to cooking and foreign languages.
Some of the other topics include business, marketing , entrepreneurship, design, health, music, photography, and there are even courses to learn how to use some software.
The courses vary a lot in terms of content quality, some of them are not that advanced so you will be able to find all kinds of courses.
You can also find the courses according to your possibilities, since you can obtain free and/or paid courses.
The app is pretty decent and has most of the features from the official website as well.
3.- Duolingo
One of the most popular options that mobile technology gives us to facilitate language learning is this application.
Duolingo is one of the most downloaded apps in the education industry, specifically for Android since it has no advertising.
It has a significant number of languages ​​available, among them the most popular ones stand out.
Among them, the most popular ones stand out, such as: Spanish, Dutch, Danish, French, German, Italian and Irish. Other languages ​​offered include Russian, Japanese, Dutch, Turkish, Korean, Greek, Mandarin Chinese, etc.
You work these by units in didactic ways such as questions and answers, for each correct answer you earn points that you can use for other topics, you can also level up.
Without a doubt, it is the best application to study languages ​​on mobile devices.
4.- Kahoot!
It is currently one of the most popular alternatives among teachers for their students to review and test curricular knowledge.
It is a game with a question and answer system that is used in the classroom and is designed to play the game with the whole class in real time.
Multiple choice questions are projected on the screen and students answer the questions using their smartphone, tablet, or computer.
5.- EdX
EdX is one of the most unique educational applications in mobile technology.
Instead of offering courses from professionals, offer courses from real universities, although you will not get a legitimate university degree you can be sure that they are high level courses.
However, there are courses in programming, engineering, history, psychology, nutrition, statistics, and many more.
It has online or offline video conferences, course announcements and brochures, as well as various tutorials.
It's all completely free and anyone looking for higher education should have this app right now.
6.- ClassDojo
For example, students can communicate with their teachers regarding their educational needs, and parents can keep up to date with their children's progress.
This engages the children as they can get the attention required to get a better education.
7.- Google Classroom
Google always present in everything related to technology, Google Classroom is a Google tool for education.
This application allows you to manage what happens in the classroom online and in a collaborative way, be it classes, homework and even individual and group work.
Its functionality is associated with a Gmail account and offers the possibility of creating documents, sharing information in different formats, scheduling meetings and carrying them out virtually.
In this way, teachers gain more control over all the tasks that take place in the classroom.
In turn, through this application, students can also communicate with the teacher or with their classmates to organize activities or study sessions.
8.- YouTube
YouTube is probably the best educational app for hands-on learning.
You can find tutorials and how-to videos for just about anything.
You can find all kinds of educational videos from how to change the oil in your car, solve a math problem, give lectures on astronomy or learn programming languages.
Most of the YouTube channels do not adhere to the learning style, however it is also a reality that today everyone learns something new thanks to their videos.
In any case, YouTube is a great source of secondary learning.
YouTube is completely free, although you can also pay per month to get YouTube Premium and avoid all the annoying ads.
9.- MyScript Calculator 2
MyScript Calculator 2 is a very fun math app for kids and adults.
It allows you to write math problems with your finger or a stylus. The app then converts this script and solves the problem for you.
It is one of the most visually pleasing calculators we have ever seen.
It supports a number of operations, including algebra, trigonometry, and basic arithmetic, among others.
You can also write division and fractions in several different ways.
This is highly recommended for those in elementary school, high school, and even mid-college.
Unfortunately, this application is not free, so if you want to use it, you must pay a single amount to access it.
As a conclusion, we can tell you that the development of applications and mobile technology offers numerous benefits in the education industry.
Students are more motivated to use a mobile phone for every purpose, therefore apps are the perfect way to engage students to learn and improve their skills.